STS Florida Electronic Recycling, Inc. is leading the way to a green, safe future. We are a EPA, OSHAS: 18001 certified and HIPAA, FERPA, FACTA, and GLBA compliant company dedicated to providing safe and efficient means for recycling electronic equipment.
Is your computer or electronic equipment recyclable? Computer recycling and electronics recycling includes a broad range of electronic equipment and computer components and peripherals. We allow businesses and organizations a way to safely recycle unwanted, nonworking and out-of-date computer equipment while giving back to their global and local communities. STS Florida Electronic Recycling, Inc., offers a full computer recycling and electronic recycling service! 
How to recycle your Electronics
1. Call STS to schedule a Pick Up
2. Schedule a date and time for Pick Up
3. Proper Recycling Process of ALL equipment
4. Certificate of Destruction

STS Florida Electronic Recycling, Inc., prides itself in recycling all forms of electronics, if you need help recycling your electronic device or old computer please contact STS Florida Electronic Recycling at 305-388-7727 or by email at [email protected]
Demanufacturing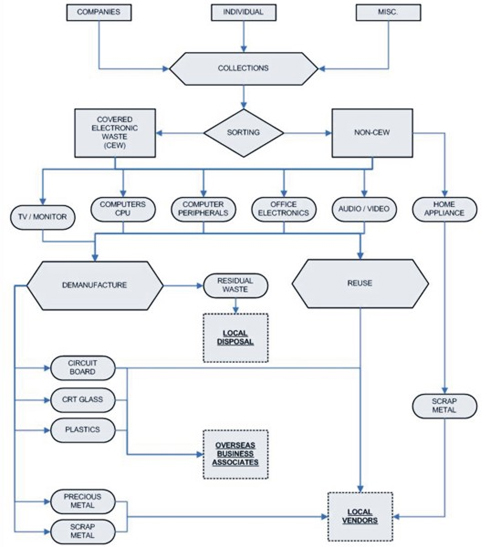 The STS recycling process starts by thoroughly sorting and weighing all materials received. End-of-life electronic devices are disassembled to its essential components and are separated, sorted and categorized to be transferred to our downstream recyclers.
EWC does not allow the export of hazardous e-waste to developing countries where strict health and environmental regulations do not exist. We ensure that the entire recycling chain is meeting high environmental and health standards. EWC provides visible tracking records of e-waste throughout the product recycling chain.